EWOSA News - April 2020

Welcome to the fourth edition of the Energy and Water Ombudsman SA (EWOSA) quarterly newsletter: your one stop shop for emerging consumer trends, hot issues and policy matters.


From the Ombudsman
The COVID-19 pandemic has had a significant impact on South Australians on top of the devastating bushfires this Summer. The Energy and Water Ombudsman SA recognises this and continues to work on robust processes, alongside energy and water industries and community organisations, to deliver households and businesses with their energy and water needs.  [click + for more]
Customers may be seeking:

payment difficulty support
payment waivers
energy efficiency information
to manage health conditions
energy use information
access to concessions.
The framework for the delivery of essential services like energy and water is specifically designed to function well during times of hardship. As such, our Scheme, community organisations, energy and water businesses, are here to help you.
If you have been impacted by the current situation, we strongly encourage you to contact your supplier to discuss available options which suit your circumstances. If you have been unable to resolve the matter with your energy or water supplier, please advise one of our staff members immediately and we will assist with resolution of your complaint. Customers can contact us via 1800 665 565 or online by clicking here.
In response to the COVID-19 pandemic, our workforce, including customer-facing staff and investigation officers, are working off-site from Tuesday, March 24.
We will continue to deal with unresolved complaints we have received via phone or internet from residential customers and small businesses, while helping to protect the wellbeing and safety of our staff and others in the community who are more vulnerable to the effects of COVID-19.
However, as we adjust to the new remote-working environment, we ask for your patience if there are delays in responding to complaints.
Whenever possible, we ask that consumers contact us online via live chat or our complaint form which can both be accessed here. Customers can also SMS us on 0488 854 555. We are committed to maintaining the quality engagement with our customers and members.
Sandy Canale
Energy and Water Ombudsman
Consumer Trends 1


1 January - 31 March 2020
Hot Topics
Consumer Trends 2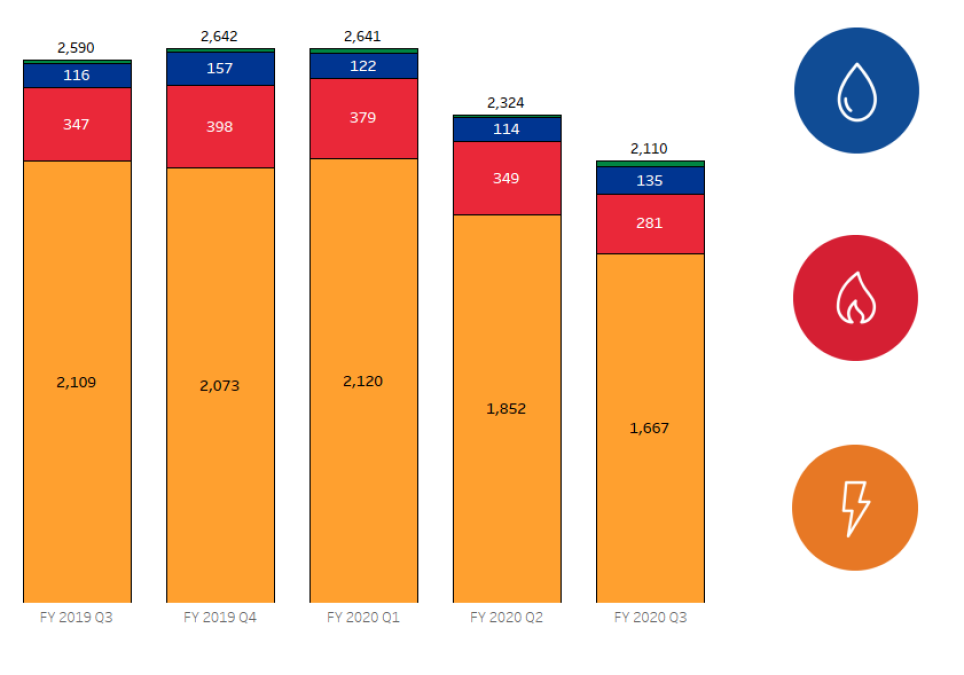 Cases received over the last five quarters
Case studies
Case study 1 - Default listing
Utility: Electricity and gas
Customer Type: Business
Case Type: Investigation
Mr A contacted the Scheme in relation to 11 electricity and 4 gas default listings. He wanted to ensure that the defaults were marked as paid and that those listed in error be removed.
Outcome:
The Scheme investigated the issue and was satisfied that all the default listings had been marked as paid, noting that the retailer apologised for a delay in the defaults being marked as paid. The Scheme found that there was no evidence that the defaults on any of the 15 accounts were listed in error. The retailer made a goodwill gesture of $1500 credit.
The complainant returned to the Scheme because a $303 gas default was not marked as paid and the four gas default listings were not removed. The retailer apologised for the oversight and confirmed that the default listings had been removed. The retailer made a goodwill gesture of $1000 credit.
Case study 2 – Water restriction
Utility: Water
Customer Type: Residential
Case Type: Refer to higher level
Mr X was in debt and facing water restriction. He previously had been on a hardship program for a lengthy period until he no longer required the support.
Mr X's financial situation changed when he lost his job. He contacted his retailer and was placed on a hardship program again. A free water audit identified two major leaks. Mr X was also referred to a financial counsellor.
Outcome:
Mr X did not keep up with his hardship program payment plan and contacted the Scheme when he believed restriction was imminent. The Scheme confirmed the property had not been scheduled for restriction and that the retailer was committed to continuing to work with Mr X.
Consumer Trends 3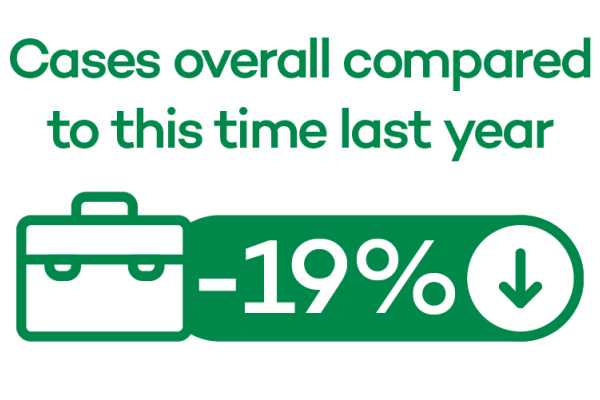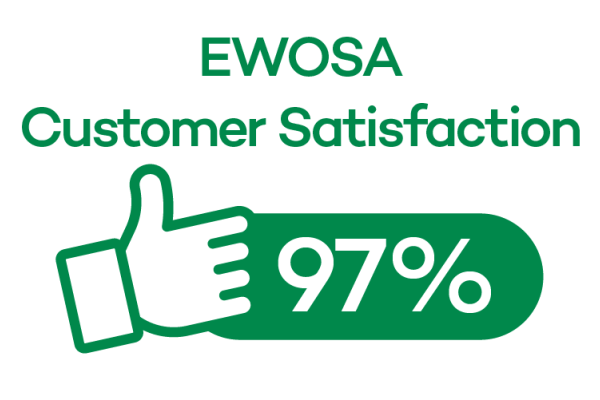 Customer Corner
Payment assistance
If you are experiencing difficulty meeting your payments, support is available.

As our community faces increasing challenges economically, it is good to know that energy and water frameworks provide for times where additional support is needed.
There are a number of things customers can do to help manage any payment difficulties:
contact your retailer, advise that you are in payment difficulty and ask to be put on to a payment plan where the customer pays in instalments. You may consider that you are in 'hardship' – refer to the next section below.
contact the Energy Advisory Service for advice on the most efficient way to manage energy in the home
there may be circumstances in which a financial counsellor would be helpful to you – if so, contact 1800 007 007
check out optimum temperature ranges for your heating (and cooling appliances). Ideally, heating will be within the 18 - 21 degrees Celsius range
shop around for a better deal. The introduction of a reference price on July 1, 2019 has made it easier to see if a customer is getting the best deal for their particular energy needs
Spotlight on hardship
'Hardship' has a particular meaning in essential services. Enhanced support services are associated with retailer hardship policies.

A hardship program can help you pay your energy or water bills. There are many reasons why a person may find it hard to pay their bills, including loss of employment or illness. Retailers will tell customers about their hardship programs under circumstances where a customer is finding it hard to pay their bills.
As part of a hardship program, you may decide to pay your bills through a payment plan or Centrepay. Once a payment plan is in place, it is important to contact your retailer if your circumstances change and you can no longer afford the original plan.
Retailers also may offer additional supports to customers in hardship, such as energy efficient appliances, home energy audits or plumbing services. Your retailer can provide you with details about their hardship policy.
Energy saving tips
Spending more time at home could lead to increased energy use so it may be important to use energy carefully.

By reducing your energy use, you can reduce the amount you have to pay. A range of easy energy saving tips can be found at the Energy Advisory Service. These include:
adjusting the thermostat on your heating and cooling appliances
taking shorter showers
turning lights off when leaving a room
waiting until there is a full load before running the clothes washing machine
using a clothesline instead of a dryer
switching appliances off at the wall.
Public Submissions
Consumer Trends 4
Cases Per 10,000 Customers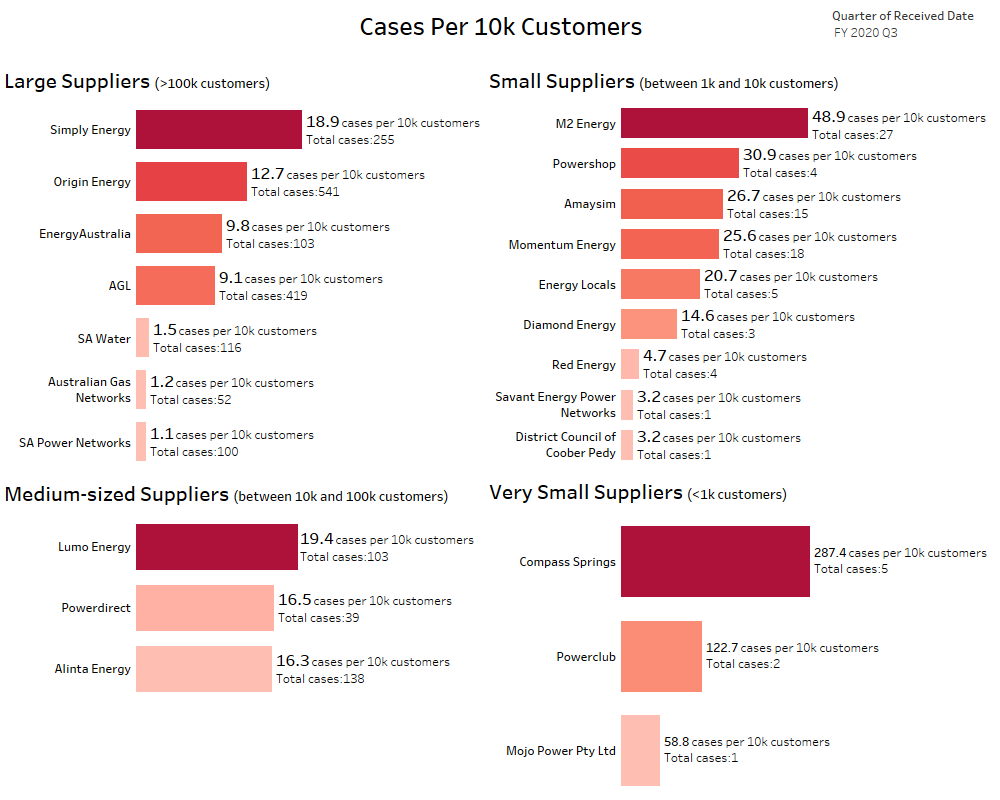 The number of cases per 10,000 customers for each supplier is calculated by dividing the number of cases received during the quarter by the total number of customers for each supplier, multiplied by 10,000. Large Suppliers are those with over 100,000 customers, Medium-sized Suppliers have between 10,000 and 100,000 customers, Small Suppliers have between 1,000 and 10,000 customers and Very Small Suppliers have less than 1,000 customers. The total number of cases is also presented for context.

Electricity Cases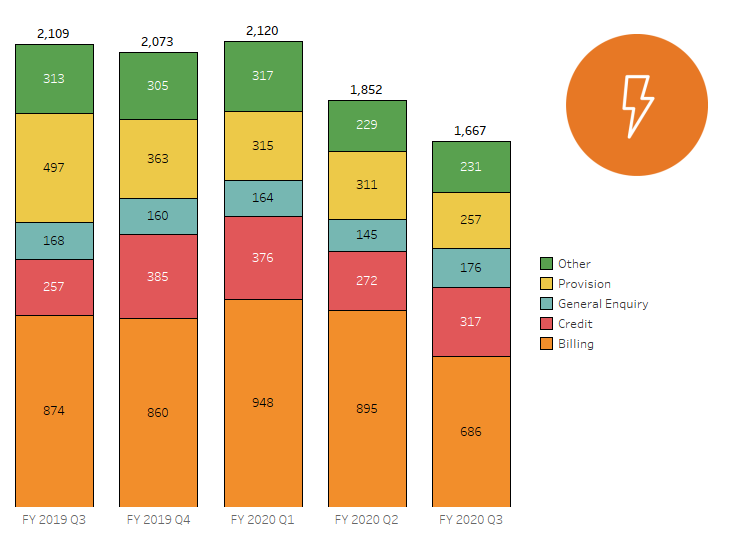 Gas Cases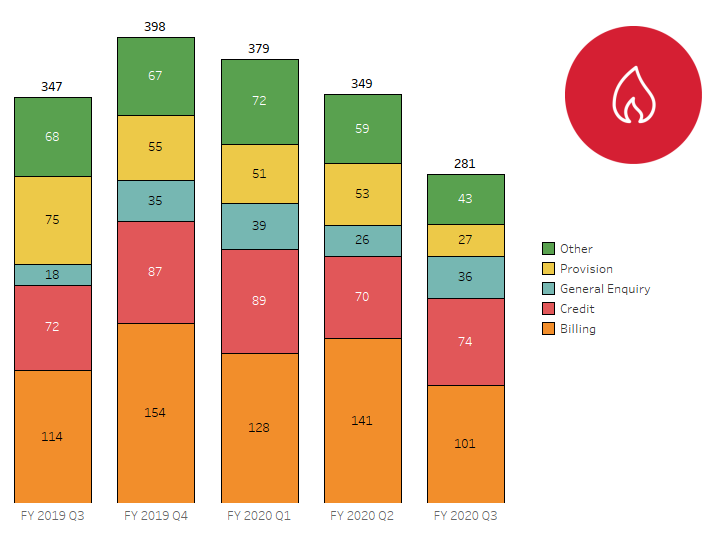 Water Cases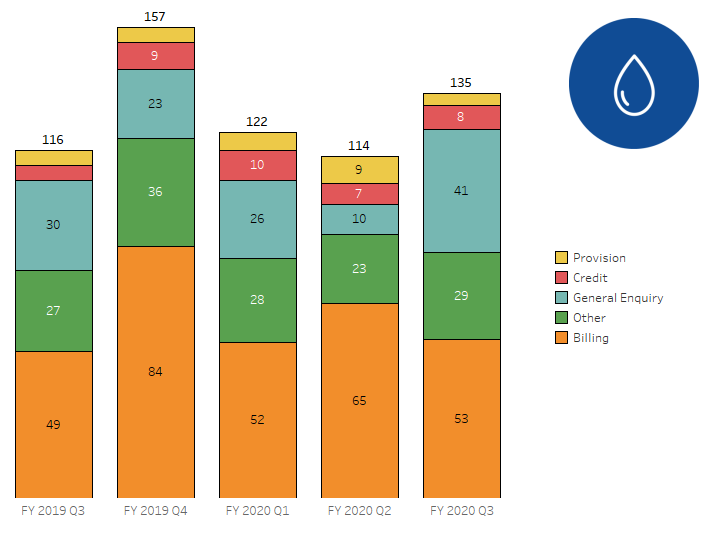 Remember, we are here to help
EWOSA facilitates the prompt resolution of complaints and disputes between consumers of electricity, gas and water services and Members of the Scheme by providing a service to consumers which is free, independent, accessible, fair and informal.
Freecall 1800 665 565
SMS 0488 854 555