EWOSA News - August 2020

Welcome to the latest edition of the Energy and Water Ombudsman SA (EWOSA) quarterly newsletter: your one stop shop for emerging consumer trends, hot issues and policy matters.


From the Ombudsman
The COVID-19 pandemic continues to significantly impact South Australians, as we come to terms with the new normal and a changing economic outlook. [click + for more]
The Energy and Water Ombudsman SA has been working with its partner schemes in the Ombudsman network, as well as energy and water suppliers, to facilitate mutual understanding of the experiences of small customers during the pandemic.
Overall, we have been pleased to see that customers have largely been well supported during the emergency period. Government support and additional measures provided by suppliers have helped drive low complaint volumes to our Scheme. We have seen significantly reduced numbers of credit management complaints, indicating low occurrence of cases related to financial hardship and disconnections.
We are not yet certain how the economy will develop over the coming months but it is clear some actions can help support consumers during this time, including:
using energy carefully over the winter months and particularly being aware of heating use
customers to pay their bills if they can afford to
customers to contact their energy or water retailer at the first available opportunity if they need help with their bill
visiting our website to find out about available COVID-19 support.
On other matters, customers may wish to consider the issue of power surges. A power surge is a short duration of a rise in power which is transient and typically lasts for less than several milliseconds. Surges can damage sensitive electrical equipment and may be caused by equipment within your property or events associated with the operation of the electricity distribution network. They may also be caused by natural events such as lightning strikes and other weather events.
On many occasions, it is beyond the reasonable ability of SA Power Networks to prevent events that cause power surges. SA Power Networks will meet its legal obligations to compensate customers. These obligations are set out in each customer's ongoing connection contract. Generally, SA Power Networks is only required to provide compensation to customers when it is at fault, such as when it has been negligent or has acted in bad faith. The amount of compensation can depend on the depreciated value, or age, of the damaged electrical equipment.
Consumers may wish to discuss their needs with a licensed electrical contractor to assess protection of their appliances and electrical installation by installing surge protection. Additionally, consumers may wish to review their home and contents insurance policy to ensure they are suitably covered for such an event.
Sandy Canale
Energy and Water Ombudsman
Consumer Trends 1


1 April - 30 June 2020
Hot Topics
Consumer Trends 2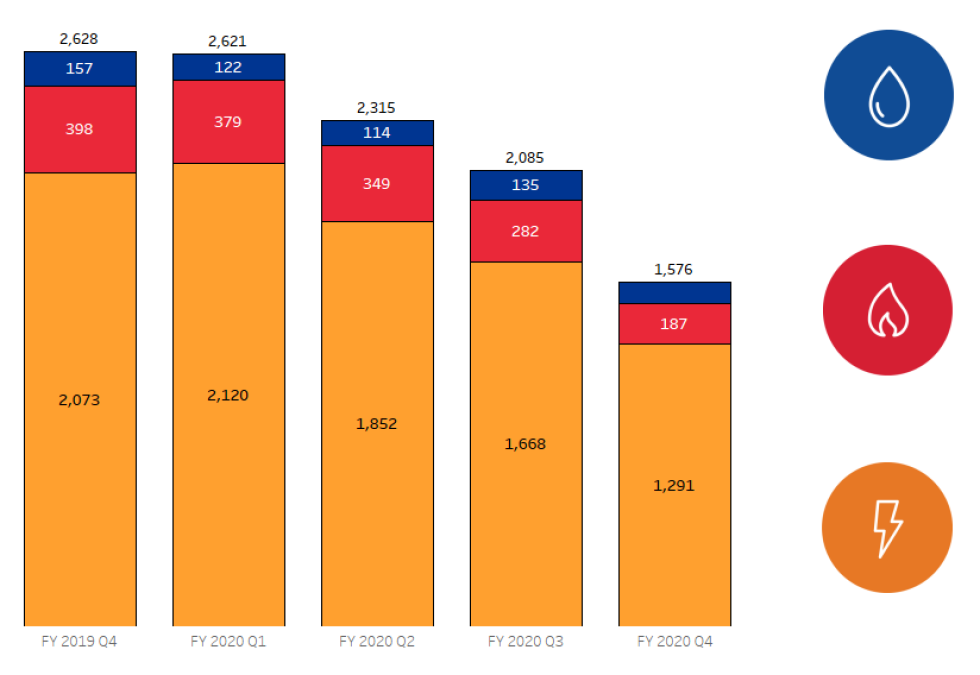 Cases received over the last five quarters
Case studies
Case study 1 - Default listing
Utility: Electricity
Customer Type: Residential
Case Type: Investigation
The issue:
Mr S disputed a default listing for his closed electricity account debt. He explained that he no longer disputed the accuracy of the debt still owed but disputed the default listing because his supplier failed to correctly conduct a bill review. Mr S wanted the default removed to resolve the matter.
EWOSA investigation:
We found that the supplier failed to comply with sub-rule 29(7) of the National Energy Retail Rules because Mr S was not informed that he may lodge a dispute with this office after he explained to the retailer that he was dissatisfied with its bill review.
Resolution:
The retailer acknowledged this error, removed the default and offered a payment arrangement for the outstanding balance.
Case study 2 – High bill dispute
Utility: Electricity

Customer Type: Business
Case Type: Investigation
The issue:
Mr A disputed higher-than-expected electricity bills over several years for a closed electricity account. He explained his business did not operate for several periods during this time and was concerned that his supplier had billed more power than was used at the property.
EWOSA investigation:
We reviewed the bills and found that the supplier billed the actual reads and actual recorded use for all billing periods. The meter was tested and found accurate and all actual reads were in line and supported the accuracy of earlier reads. Mr A's supplier had billed the correct actual use.
Resolution:
The supplier offered to backdate the account closure from August 2018 to May 2018 as a gesture of goodwill, which reduced the debt. The supplier also apologised for any inconvenience, and provided a $50 goodwill credit. As the account was closed and the debt sold, Mr A was referred to the debt buyer to enter a payment arrangement.
Consumer Trends 3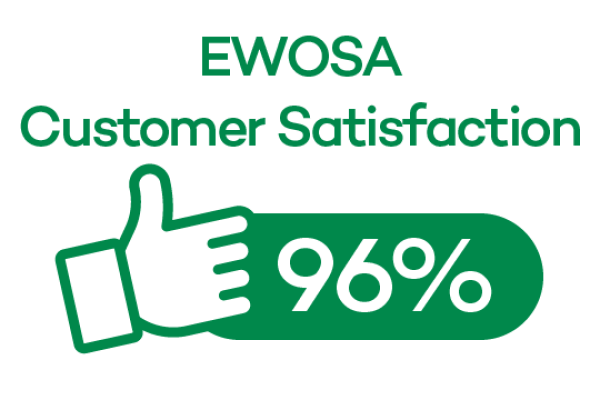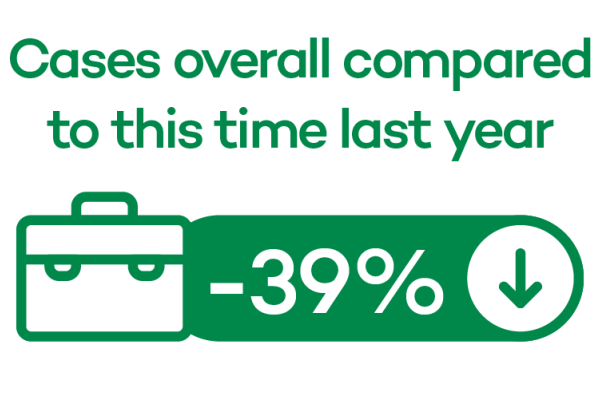 Customer Corner
Easy to understand energy ads
The government is taking steps to make energy ads easier to understand

Recent research conducted for the Australian Energy Regulator has explored what information consumers need to make the best decisions.
Research found consumers respond more readily to ads which present the "benchmark price set by the government", compared to other terms. This benchmark price was established in 2019 and requires energy retailers to compare their offers to the benchmark when advertising their prices on available offers.
Ads about the benchmark price must feature an estimated average annual bill. In South Australia for 2020-21, the estimated average annual bill is $1,832 for a residential customer on a flat rate tariff.
New tariffs
SA Power Networks has introduced a more flexible range of network tariffs

Customers are advised to contact their retailer to work out which network tariff they are on and to decide if a more suitable option is available. SA Power Networks has developed a range of tariffs with different incentives for customers. For example, some residential and small business customers may be able to take advantage of cheap solar energy in the middle of the day.
Network charges make up around a third of the total bill for a typical residential customer. SA Power Networks develops its tariffs and then retailers package these with other charges to provide different types of offers to customers.
Service levels and customer payments
SA Power Networks is required to make payments to its customers when certain service levels are not met

A Guaranteed Service Level (GSL) Scheme exists to acknowledge the inconvenience customers experience when certain service levels are not met. These service levels are detailed in the following fact sheet by the Essential Services Commission (of South Australia):
Changes to SA Power Networks' Guaranteed Service Level (GSL) scheme from 1 July 2020
Please note that the above link also details interruptions which are excluded from the GSL scheme.
Public Submissions
Consumer Trends 4
Cases per 10,000 customers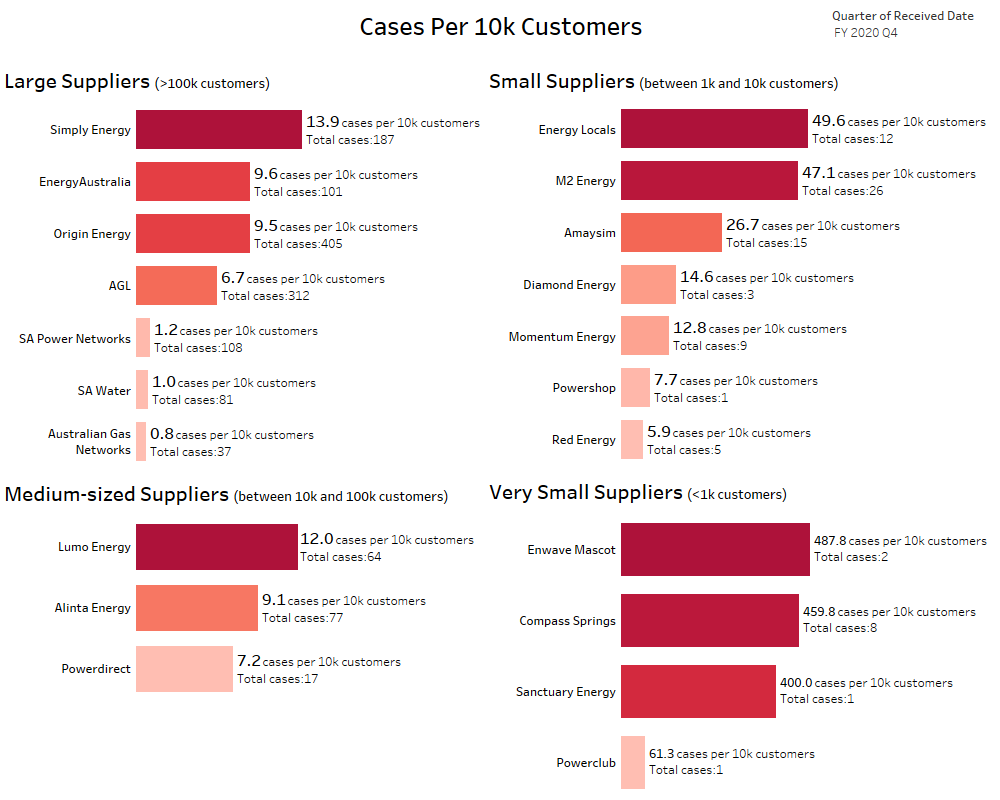 The number of cases per 10,000 customers for each supplier is calculated by dividing the number of cases received during the quarter by the total number of customers for each supplier, multiplied by 10,000. Large Suppliers are those with over 100,000 customers, Medium-sized Suppliers have between 10,000 and 100,000 customers, Small Suppliers have between 1,000 and 10,000 customers and Very Small Suppliers have less than 1,000 customers. The total number of cases is also presented for context.

Electricity cases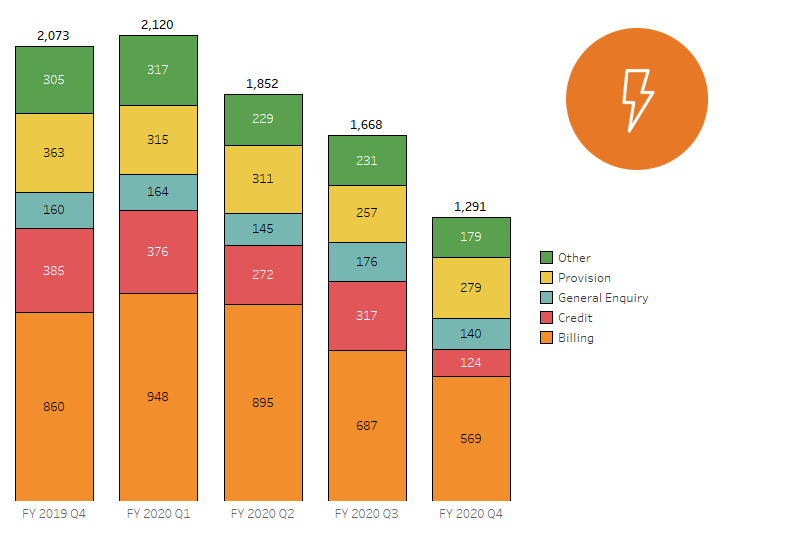 Gas cases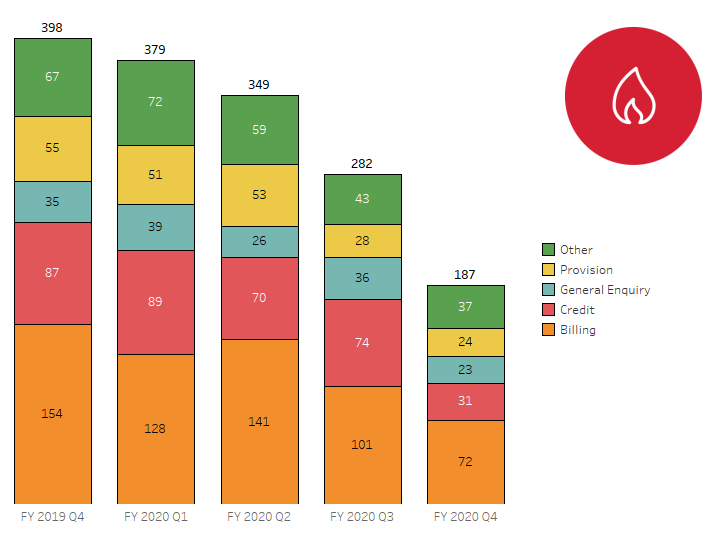 Water cases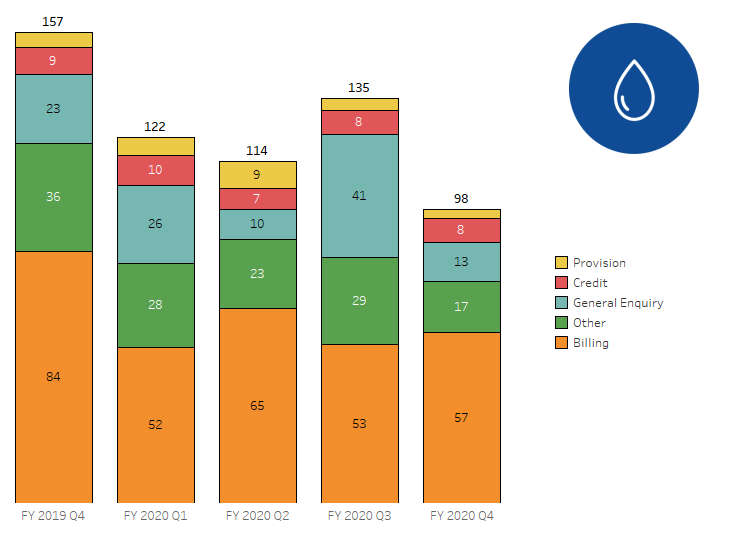 Remember, we are here to help
EWOSA facilitates the prompt resolution of complaints and disputes between consumers of electricity, gas and water services and Members of the Scheme by providing a service to consumers which is free, independent, accessible, fair and informal.
Freecall 1800 665 565
SMS 0488 854 555