EWOSA News - December 2022

EWOSA News - December 2022
Welcome to the latest edition of the Energy and Water Ombudsman SA (EWOSA) quarterly newsletter: your one stop shop for emerging consumer trends, hot issues and policy matters.
On this page


From the Ombudsman
Complaints about energy and water supply in South Australia have fallen for the second successive year. [click + for more]
The Energy & Water Ombudsman SA (EWOSA) handled 5,320 complaints in 2021-22 – a 5% decrease for the year, following an 18% fall in 2020-21.
In our 2021-22 Annual Report released in late September, we note that complaint levels were consistent with the previous year, in part due to regulatory support for COVID-affected businesses and individuals, such as a moratorium on energy disconnections.
April saw a 14-year low in monthly case numbers due to such issues as low unemployment, seasonal fluctuations, milder weather conditions and the absence of major electricity disruptions.
The report shows low levels of complaints related to credit issues, including non-payment of bills, payment difficulties, disconnections and disputes on credit status. However, complaint numbers may again rise in the coming year due to the removal of pandemic supports, residual debt levels from the pandemic, rising interest rates and hikes in energy prices. This will create new challenges.
I am pleased by the growing recognition of the payment difficulties that some consumers face. However, Australia is in the middle of a significant energy transition, which will benefit many but may leave others behind.
Households and businesses are adopting new products and services, such as virtual power plants, battery storage and electric vehicles, but many of these are not covered by existing energy-specific protections, such as EWOSA. As a result, some consumers must now rely on Australian Consumer Law to resolve disputes.
Other consumers may be left behind in this energy transition – and may pay a greater percentage of the state's overall energy bill – so sufficient protections will need to be in place to ensure that all can benefit.
In common with previous years and with ombudsman schemes in other states, billing issues continue to generate the highest number of complaints. During 2021-22 billing complaints increased by 2% compared to the previous year. There was a 20% fall in complaints related to provision issues, which include connections, disconnections and meter readings.
Across the year, 88% of cases were resolved within 30 days, and 97% within 60 days.
To access our Annual Report, please refer to our website.
As always, we want you to know that we are here to help. Please contact us on 1800 665 565 or via our website if you need assistance.

Sandy Canale

Energy and Water Ombudsman SA
Consumer Trends 1


Top Issues during the Quarter, 1 Jul - 30 Sep 2022
Hot Topics
Retailer of Last Resort provisions
The price and supply of electricity in 2022 is being driven by increased wholesale electricity costs due to a variety of factors, including the war in Ukraine and planned and unplanned generator outages. Some retailers have been unable to continue to operate in these tight conditions.
The Retail Law contains provisions to protect customers in the event of a retailer failing, which is known as a Retailer of Last Resort (RoLR) event. Under the RoLR scheme, customers continue to receive electricity and/or gas supply.
The Retail Law provides for the Australian Energy Regulator (AER) to maintain and publish a register of RoLRs and appoint designated RoLRs in relation to RoLR events. Seven RoLR notices have been issued by the AER since May 2022: Pooled Energy, Weston Energy, Enova Energy, Power Club Limited, Mojo Power East Pty Ltd, Social Energy Australia Pty Ltd and Elysian Energy Pty Ltd.
Source:
New rules to protect customers from family violence
The Australian Energy Market Commission (AEMC) has published new rules which will provide better protection for energy customers affected by family violence. They will take effect on 1 May 2023.
This initiative was requested by Red Energy and Lumo Energy and follows successful family violence reforms in Victoria, Western Australia and other essential services sectors.
The AEMC has outlined key provisions of the new rules. When dealing with customers affected by family violence, retailers must:
have regard firstly to the safety of an affected customer in any dealing they have with them
not disclose confidential information about an affected customer to another person, and must require their contractors and agents not to disclose this information, without the customer's consent
provide a secure process to identify affected customers and minimise the need for them to repeatedly disclose their experiences
not require documentary evidence in order to offer protection
ensure staff can identify, assist and engage appropriately and effectively with customers affected by family violence
adopt, publish and comply with a comprehensive family violence policy
consider family violence as likely to cause payment difficulties and hardship, meaning affected customers may also qualify for other forms of assistance.
Source:
Small-scale energy networks
The Essential Services Commission of South Australia is reviewing the effectiveness of the small-scale energy consumer protection framework. This framework applies to around 5,500 customers in regional and remote areas of South Australia. Following an initial round of stakeholder feedback a Draft Decision has been released.
The Small-scale Energy Networks Review Draft Decision proposes changes that will mean that customers of small-scale energy networks have a more consistent set of core protections across the two fuel types.
In terms of hardship and disconnections, the Commission is seeking greater alignment between the National Energy Customer Framework provisions and those of the Commission. The Commission is also proposing updates to the Prepayment Meter System Code.
Source:
Consumer Trends 2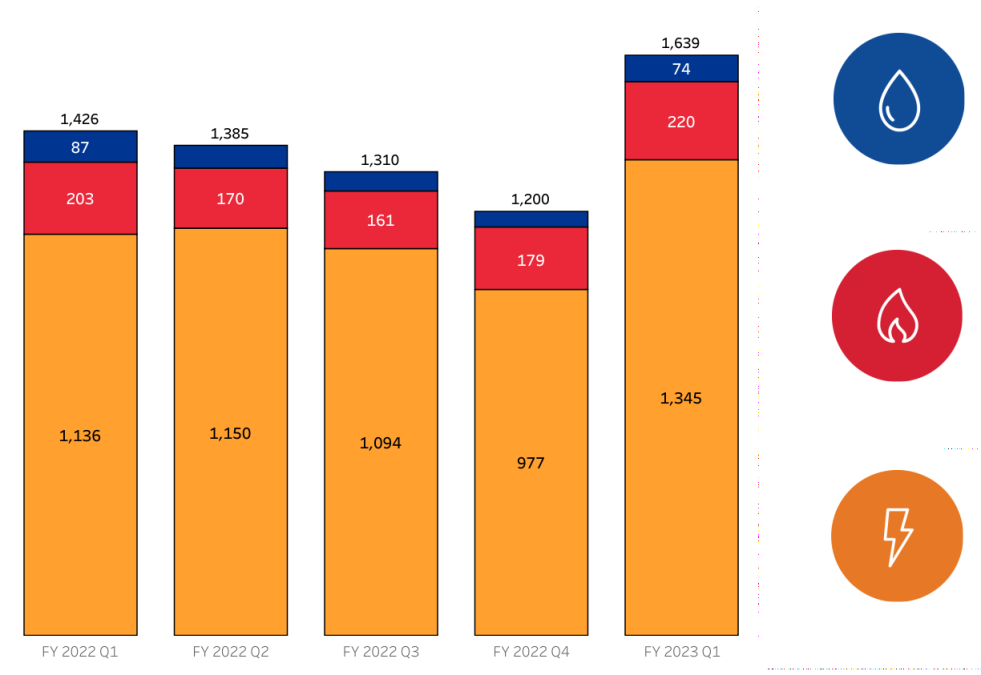 Complaints received over the last five quarters
Case Studies
Case study 1 - Virtual Power Plant (VPP)
Issues: High bill
Utility: Electricity
Customer type: Residential
Case type: Investigation
The issue:
Mr and Mrs X accepted an invitation from Retailer P to be part of a Virtual Power Plant (VPP) scheme. A solar system and battery was then installed on their property (at no charge to them). This is used and controlled by Retailer P.
Mr and Mrs X subsequently received higher bills, which they disputed.
Our review:
Mr and Mrs X assumed that the VPP would reduce their usage and electricity costs. However, our investigation found that under the conditions of the scheme they do not receive any benefit from solar generation, export or storage. They do receive a guaranteed cheaper rate per kWh than typical households, but all usage must still be paid for.
Mr and Mrs X had used more electricity than previously as they assumed the solar system would offset this.
Resolution:
Retailer P explained to Mr and Mrs X how the scheme works, allowed additional time for the bill to be paid and provided a $200 credit as a gesture of goodwill.
Case study 2 - VPP
Subject: High bill
Issues: Incorrect operating times of battery with Time of Use tariff
Utility: Electricity
Customer type: Residential
Case type: Refer to Higher Level
The issue:
Mr S purchased a battery through his retailer in mid-2019 under a VPP arrangement.
In late November 2021, he became aware of the availability of Time of Use Plans and requested a switch in his rate plan. At the time, he noticed that the functionality in the battery app had the wrong tariff times for his retailer.
Mr S informed the battery provider and his retailer, and the retailer advised him there was no reason for this; the app should not be restricted at all.
He has corresponded with his retailer regularly over six months to no avail. He therefore contacted us.
Our review:
We referred the matter to a higher level with Mr S's retailer, requiring it to address the matter directly with him.
The retailer advised that that this is an issue for the battery provider, and that Mr S can ask the provider to make changes to the settings that will apply annually for him.
Resolution:
For any minor affects to his electricity bill, the retailer applied a $150 credit as a goodwill gesture. It also reviewed the battery contract, confirmed the battery provider had not breached the contract and exit fees would apply if the customer chooses to exit the program.
Consumer Trends 3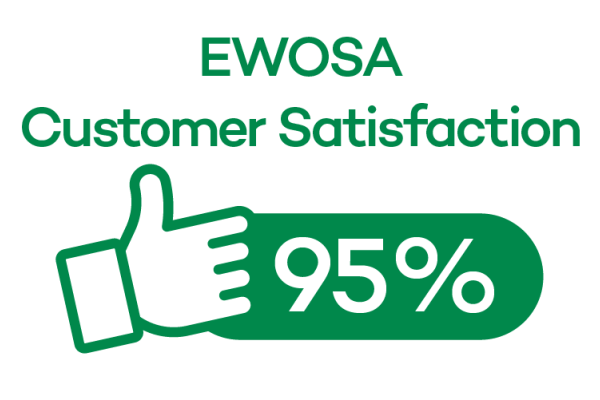 Customer Corner
Help to reduce energy bills
The AER has developed an informative fact sheet to help consumers who are trying to reduce their energy bills. Suggestions include the following.
Know your energy plan – look at your bill and read any letters or emails from your energy retailer.
Ask your retailer questions. Identify what kind of contract you are on and when it expires. Find out whether your prices are going up and if your retailer has a better deal for you.
Consider looking for a better energy plan.
Reduce energy consumption.
Other tips relate to finding a better energy plan, finding help paying your energy bill and what to do if your retailer goes out of business. You can read the full fact sheet here:
Energy Productivity
Households and businesses can reduce energy usage and costs through energy productivity. The Retailer Energy Productivity Scheme (REPS) is a South Australian government initiative which aims to improve energy productivity in South Australia.
Customers can refer to the new updated Consumers - Energy - REPS page on the Commission's website to explain the REPS in accessible language. Alternatively, customers can speak to someone in the REPS team on (08) 8389 8803 or email reps@escosa.sa.gov.au.
Plug In
Some of us who are keen to reduce our bills and lower our emissions want to do this by accessing new energy technology. However, it can be challenging to access reliable information or know where to start.
An exciting new initiative may help! The Plug In resource hub – now live at www.energytechguide.com.au – provides evidence-based, easy to understand information on new energy technology such as solar panels, batteries and electric vehicles.
Created in consultation with a team of experts, it's independent and free. Check out www.energytechguide.com.au to consider your next steps.
Public Submissions
Consumer Trends 4
Complaints per 10,000 customers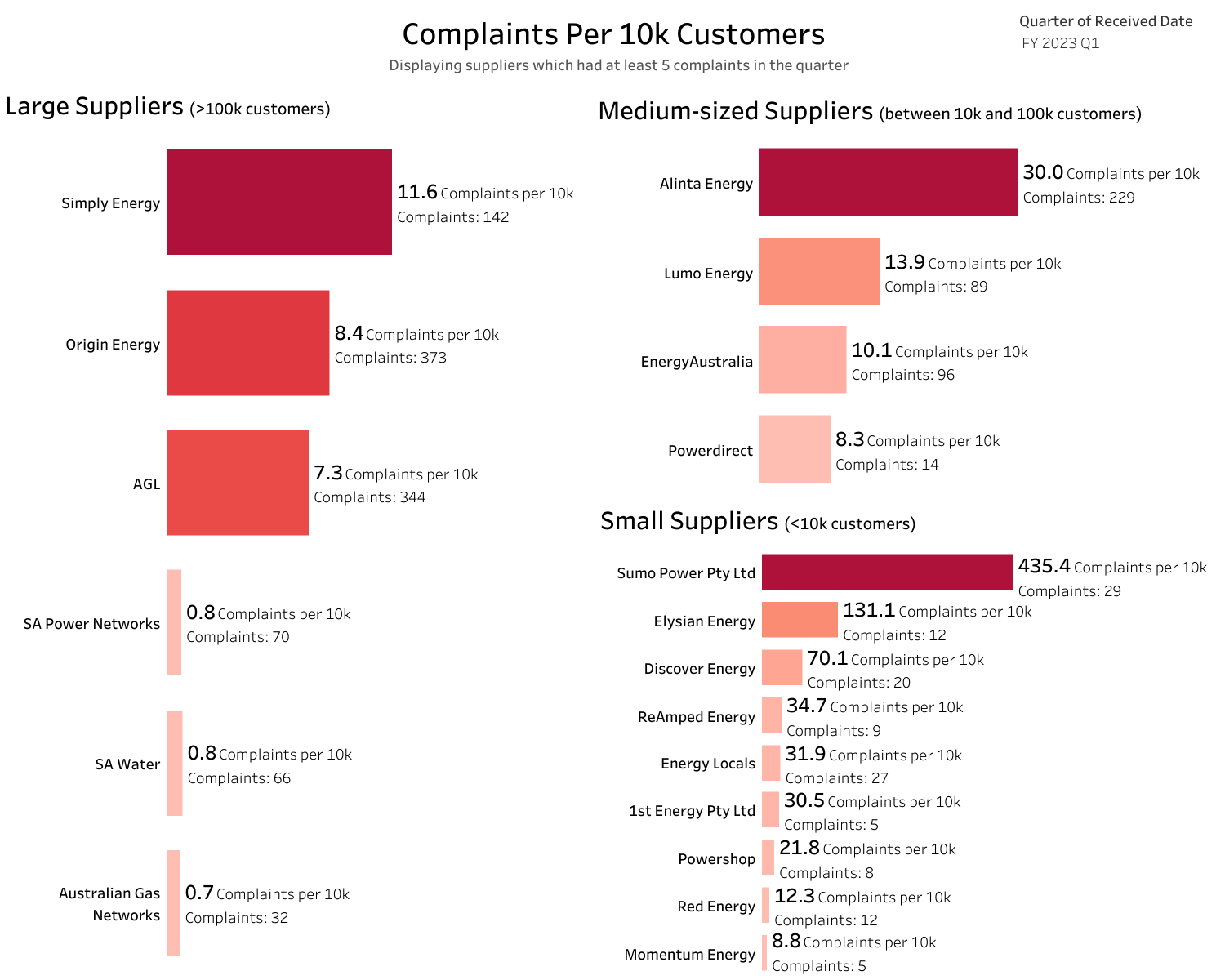 The number of complaints per 10,000 customers for each supplier is calculated by dividing the number of complaints received during the quarter by the total number of customers for each supplier, multiplied by 10,000. Large Suppliers are those with over 100,000 customers, Medium-sized Suppliers have between 10,000 and 100,000 customers, Small Suppliers have between 1,000 and 10,000 customers and Very Small Suppliers have less than 1,000 customers. The total number of complaints is also presented for context.

Electricity complaints
Gas complaints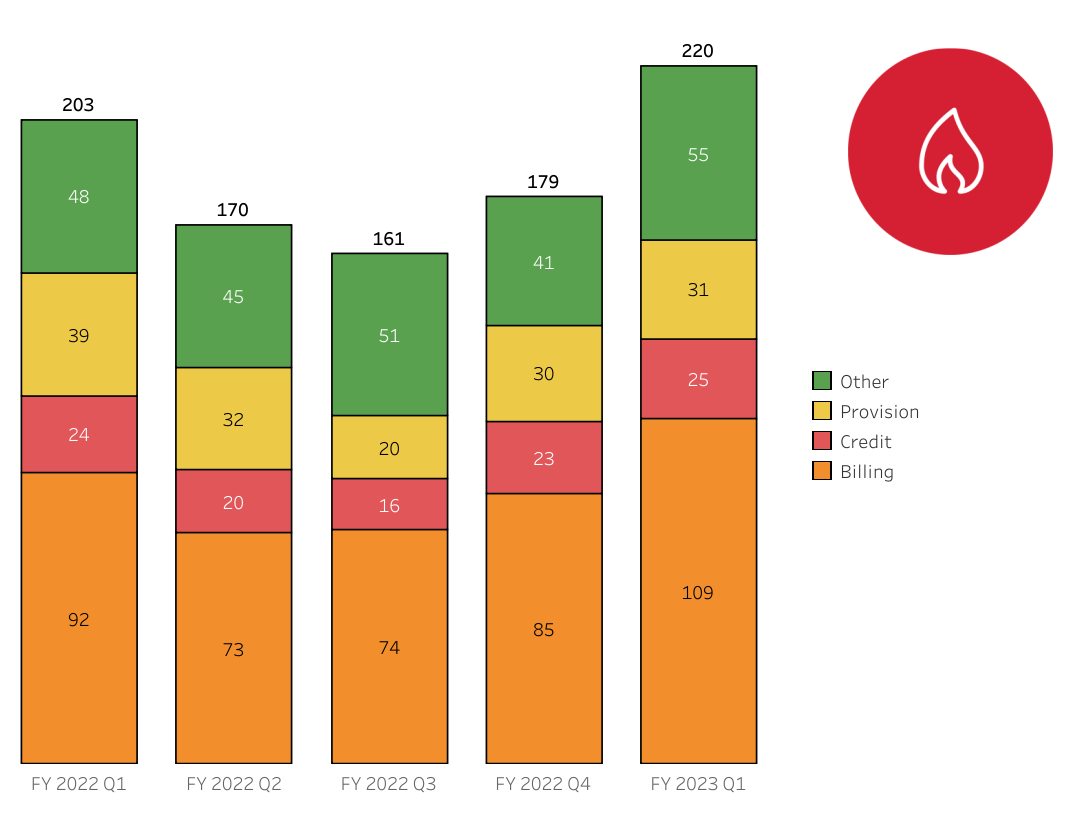 Water complaints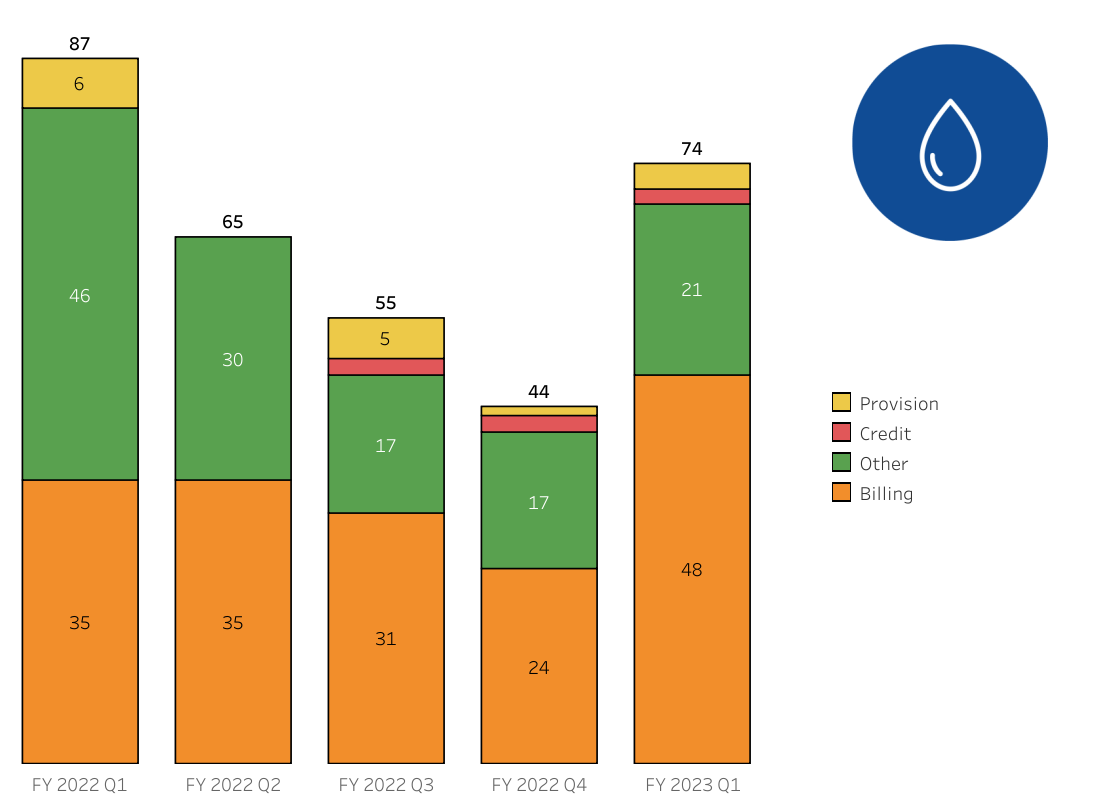 Remember, we are here to help
EWOSA facilitates the prompt resolution of complaints and disputes between consumers of electricity, gas and water services and Members of the Scheme by providing a service to consumers which is free, independent, accessible, fair and informal.
Freecall 1800 665 565
SMS 0488 854 555