EWOSA News - October 2019

EWOSA News - October 2019
Welcome to the second edition of the Energy and Water Ombudsman SA (EWOSA) quarterly newsletter: your one stop shop for emerging consumer trends, hot issues and policy matters.


From the Ombudsman
The dynamic of climate change is causing rapid transformation. Energy and water industries and consumers are surging towards climate friendly generation and supply. Discussion of the unprecedented transition which is occurring in energy and water usually refers to this greening of the market. However, digitisation is also bringing fundamental changes in the market as technology is allowing people different ways of controlling and managing their environments. Combined, these changes present opportunities and challenges, some of which customers highlight in their interactions with EWOSA. [click + for more]
Residential consumers continue the trend towards installing and operating solar PV. At this time of year, when solar panels are operating at their optimum and households are using less energy, we expect to see an associated rise in complaints. Generally, these complaints relate to inverters turning on and off due to high voltages, which may be caused either by issues with the customer's inverter or on the network side (due to high voltage input from solar panels). More information can be found on the SA Power Networks website here.
Last quarter, this newsletter highlighted some welcome progress in metering installation timeframes. Unfortunately, the issue has not completely resolved, and we continue to see a number of complaints associated with installation of new meters and solar meters, as well as replacement of faulty meters. EWOSA is continuing to work with our members and the Australian Energy Regulator to deliver further improvements in metering installation timeframes.

EWOSA is engaged in developing our position on the transforming energy and water markets and what this means for independent dispute resolution. It is critical that Schemes like ours remain fit for purpose in 2030 – able to respond to changes like the advent of smart technologies. EWOSA has joined with the other Australian and New Zealand Energy and Water Ombudsman Schemes to research how best the Schemes can respond.
Moving on from market transformation, management of customers in payment difficulty continues to be a source of major concern. The Australian Energy Regulator has introduced the Customer Hardship Policy Guideline and new retailer hardship policies were due to be in place by 2 October 2019. We expect to see some improvements for vulnerable customers as a result of this Guideline but remain concerned that a number of customers with high levels of debt will continue to fall through the cracks. We plan to closely monitor this issue.
On the inside working of EWOSA, implementation of the KPMG advice to improve our investigation and facilitation processes has resulted in reduced case handling times. We are also well underway with testing to deliver advanced web services to our members.
Sandy Canale
Energy and Water Ombudsman SA
Consumer Trends 1


1 July - 30 September 2019
Hot Topics
Consumer Trends 2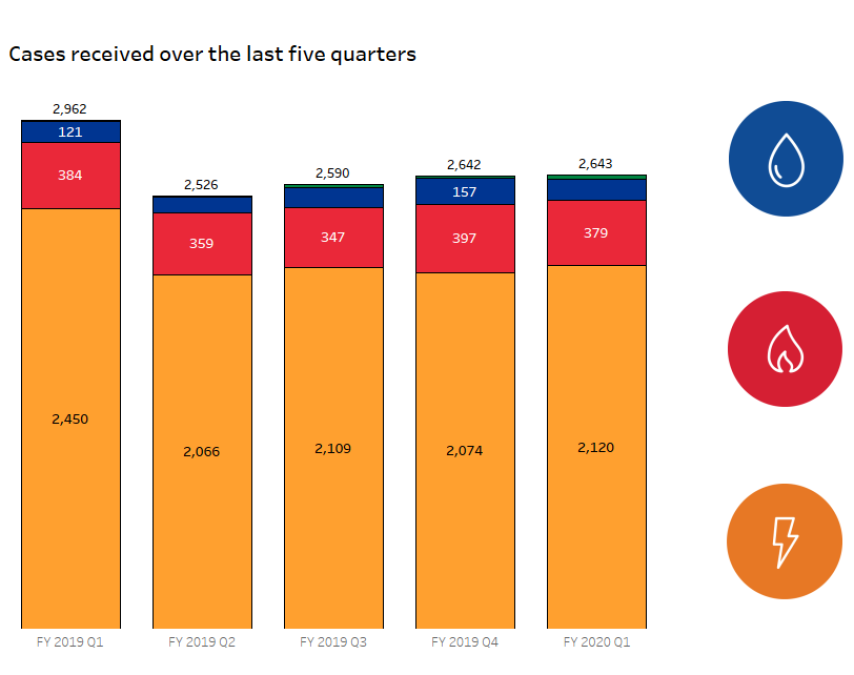 Case studies
Case study 1 - High Bill
Utility: Water
Customer Type: Residential
Case Type: Facilitation
Mr S received two consecutive bills which were higher than expected. Both bills were based on actual readings obtained from his water meter.
Mr S lives on his own and is a concession card holder.
Outcome:
An independent review of the bills confirmed that Mr S was billed according to usage recorded on the meter. Mr S was advised that he could arrange a leakage test and if he had any further concerns that the retailer would remove the meter and have it bench tested for accuracy. The retailer offered payment assistance under their hardship program.
Case study 2 - Credit Action
Utility: Electricity
Customer Type: Business
Case Type: Facilitation
Business A changed retailers due to a better offer. The offer did not eventuate as envisaged so Business A changed back to its original retailer. 6 months later, Business A had charges from both retailers for the same time period. As Business A did not pay the charge from one retailer, it was default listed by that retailer.
Outcome:
Business A had one set of charges cancelled and the default listing removed.
Consumer Trends 3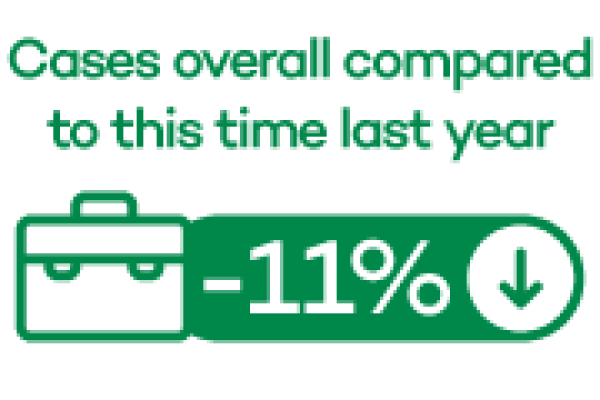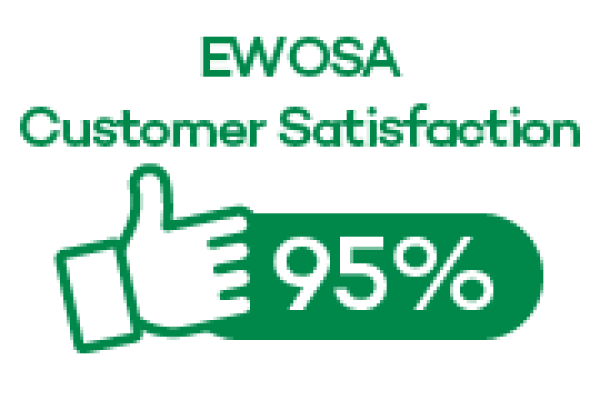 Customer Corner
Power Surges
Checking your insurance may be prudent in case a power surge arises
A power surge is a short duration power variation (rise) which is transient and typically last for less than several milliseconds. They can cause damage to sensitive electrical equipment and may be caused by equipment within your property or events associated with the operation of the electricity distribution network. They may also be caused by natural events such as lightning strikes and other weather events.
On most occasions the events that cause power surges are beyond the reasonable ability of SA Power Networks to prevent. SA Power Networks will meet its legal obligations to compensate customers. These obligations are set out in each customer's ongoing connection contract. Generally, SA Power Networks is only required to provide compensation to customers when it is at fault, such as when it has been negligent or acted in bad faith. The amount of compensation can depend on the depreciated value (ie. the age) of the damaged electrical equipment.
Customers may wish to discuss their needs with a licensed electrical contractor to assess protection of their appliances and electrical installation by installing surge protection. Additionally, customers may wish to review their home and contents insurance policy to ensure they are suitably covered for such an event.
Source:
SA Power Networks
Solar PV
It is important to wait for the right time to start using your solar PV system
It is a requirement of the Electricity Act and National Electricity Law that all solar systems connected to a distribution network must meet certain technical and safety standards and be fitted with a bi-directional meter (import/export meter) that can measure two-way energy flows. Customers or their appointed solar installer must not turn on their solar system prior to the installation of an import/export meter. If they do, the existing meter may be unable to accurately measure consumption, which could result in an estimated and often more expensive bill. There is no obligation on a retailer to adjust the billing where a solar system has been switched on before the correct metering has been installed.
Source:
SA Power Networks
High Winter Bills
High winter bills can be a prompt to switch energy providers
Weather has a massive impact on energy use and therefore the size of many customer bills. Using more lights, clothes dryers and heaters in the short, cold days of winter can result in bill shock post winter.
There are a number of things customers can do to help manage these higher bills:
contact their retailer, advise that they are in payment difficulty and ask to be put on to a payment plan
shop around for a better deal. The introduction of the reference price on 1 July 2019 has made it easier to see if a customer is getting the best deal for their particular energy needs
check out optimum temperature ranges for your heating (and cooling appliances). Ideally, heating will be within the 19 – 20 degree range (air conditioner)
contact the Energy Advisory Service for advice of the most efficient way to manage energy in the home
there may be circumstances in which a financial counsellor would be helpful to you – if so, contact 1800 007 007
Public Submissions
Consumer Trends 4
Cases Per 10,000 Customers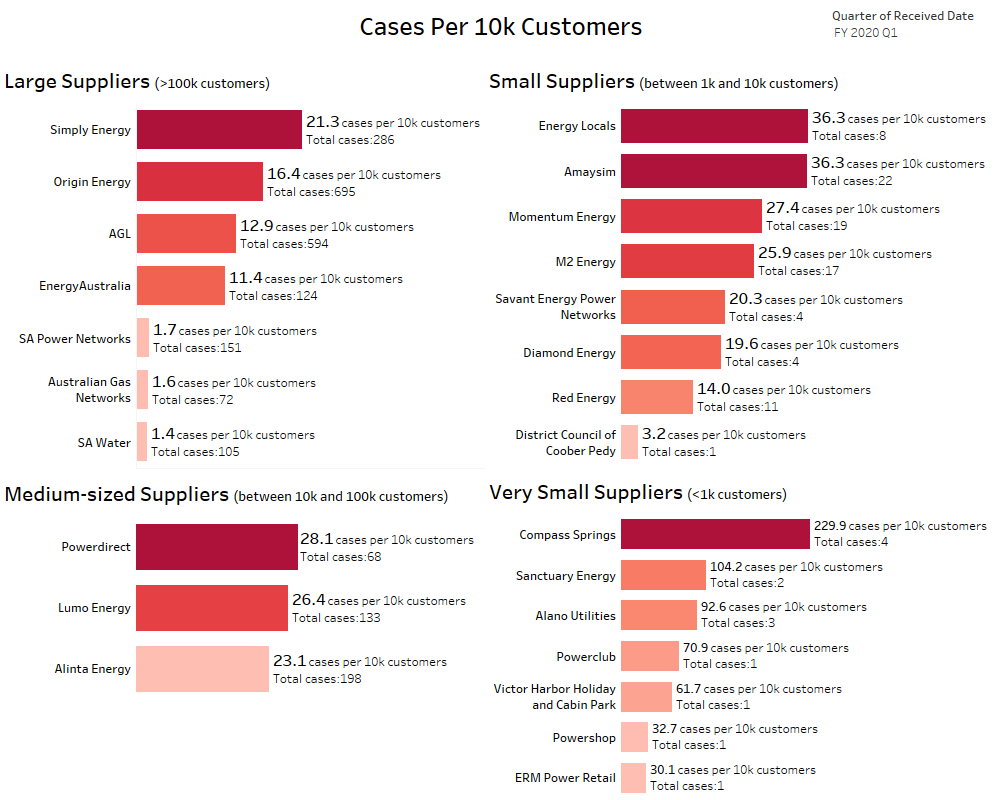 The number of cases per 10,000 customers for each supplier is calculated by dividing the number of cases received during the quarter by the total number of customers for each supplier, multiplied by 10,000. Large Suppliers are those with over 100,000 customers, Medium-sized Suppliers have between 10,000 and 100,000 customers, Small Suppliers have between 1,000 and 10,000 customers and Very Small Suppliers have less than 1,000 customers. The total number of cases is also presented for context.

Electricity Cases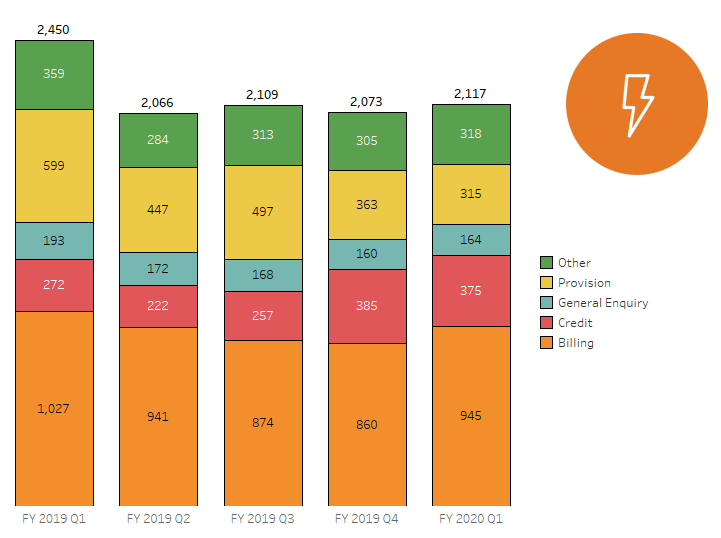 Gas Cases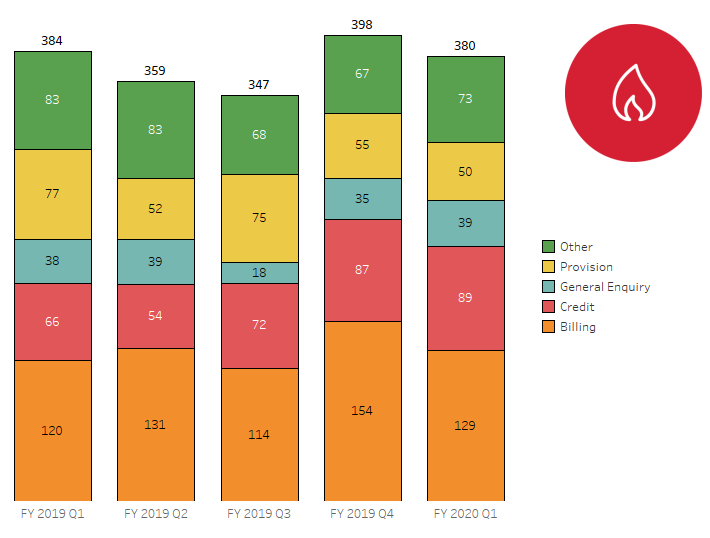 Water Cases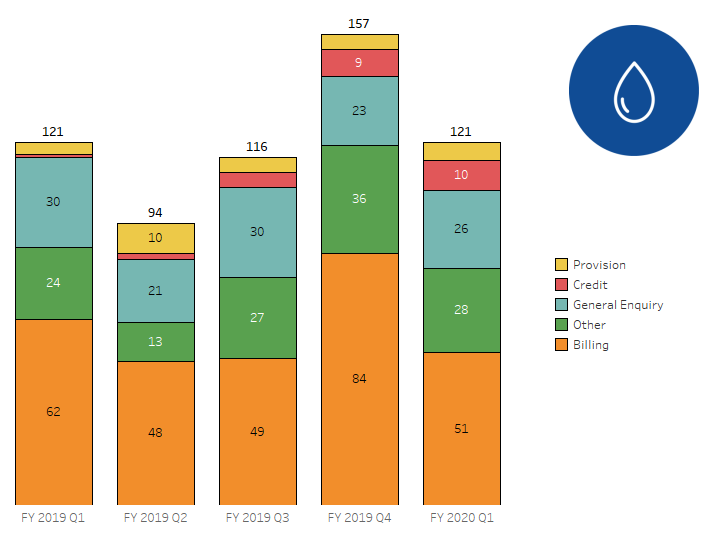 Remember, we are here to help
EWOSA facilitates the prompt resolution of complaints and disputes between consumers of electricity, gas and water services and Members of the Scheme by providing a service to consumers which is free, independent, accessible, fair and informal.
Freecall 1800 665 565